Member Guidance for Attendance

Please understand that just because we are opening does not mean you should attend worship services. If you are immunocompromised or live with someone who is immunocompromised, please DO NOT ATTEND services. Please understand that social distancing and safe at home practices are the best option for you and your family in these times and under these circumstances.
What you need to know!
- Anyone can have mild to severe symptoms.
- Older adults and people who have severe underlying medical conditions like heart or lung disease or diabetes seem to be at higher risk for developing more serious complications from COVID-19 illness.

Watch for symptoms:
People with COVID-19 have had a wide range of symptoms reported – ranging from mild symptoms to severe illness. Symptoms may appear 2-14 days after exposure to the virus. People with these symptoms may have COVID-19:
Fever or chills
Cough
Shortness of breath or difficulty breathing
Fatigue
Muscle or body aches
Headache
New loss of taste or smell
Sore throat
Congestion or runny nose
Nausea or vomiting
Diarrhea
This list does not include all possible symptoms. The CDC will continue to update this list as we learn more about COVID-19.
If you have ANY of these symptoms or have a close family member exhibiting these symptoms, we are asking that you do not attend. Please wait to attend for two weeks after all the symptoms have dissipated.
Whatever your decision please know we will still be doing all we can to minister to you. We do ask that you err on the side of caution in considering attendance. If you do choose to attend please review the "How to attend" guidelines.
Real people
Real Life
REal Church
The family of God isn't defined by lineage, race, class or finances. The apostle Paul tells us that what binds us together is our faith in Jesus Christ. We at Christ Community are a grace driven church that understands we are all not at the same spot in our faith! We understand the highs and lows we all experience. It is with that understanding that we come together and encourage each other along in our daily life of faith.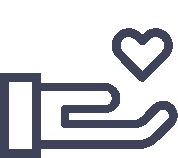 "Whoever is generous to the poor lends to the Lord, and He will repay him for his deed."