On Sunday morning March 15th, Governor Tim Walz announced the closing of all public schools in Minnesota, effective March 18th. Our local public schools moved that date up to Monday March 16th. Additionally, the CDC has recommended that gatherings larger than 50 be cancelled.
In response, Christ Community Church will suspend our Wednesday night activities until further notice! As we all know the current situation is very challenging so our decision-making process will be very fluid as to when we will be resume Wednesday evening ministries.
With regards to our Sunday Morning services, we will live stream @10:15am on Sunday a service with music, announcements, a sermon and some testimonies. This will be streamed on our Facebook account with the video being posted on our website and YouTube.
We are a community church, we value our community and wish to serve each other any way can through these extraordinary times. Our leadership team will be reaching out to our membership routinely to connect and assist in anyway. We are here to help anyone who needs it not just our members!
Galatians 6:9-10 tells us, Let us not become weary in doing good, for at the proper time we will reap a harvest if we do not give up. Therefore, as we have opportunity, let us do good to all people, especially to those who belong to the family of believers.
We will keep doing our church! It may temporarily look different or act different, but we will keep on going. God is still in control. He still knows what the future holds, and WE WILL CONTINUE TO TRUST ON HIM.
If you need anything, please reach out to Pastor Richie or a leadership team member!
In Christ,
Pastor Richie Bean
Real people
Real Life
REal Church
The family of God isn't defined by lineage, race, class or finances. The apostle Paul tells us that what binds us together is our faith in Jesus Christ. We at Christ Community are a grace driven church that understands we are all not at the same spot in our faith! We understand the highs and lows we all experience. It is with that understanding that we come together and encourage each other along in our daily life of faith.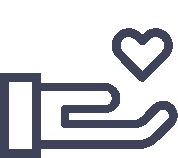 "Whoever is generous to the poor lends to the Lord, and He will repay him for his deed."